***IF READING ON A SMARTPHONE USE "LANDSCAPE" FORMAT FOR BEST RESULTS***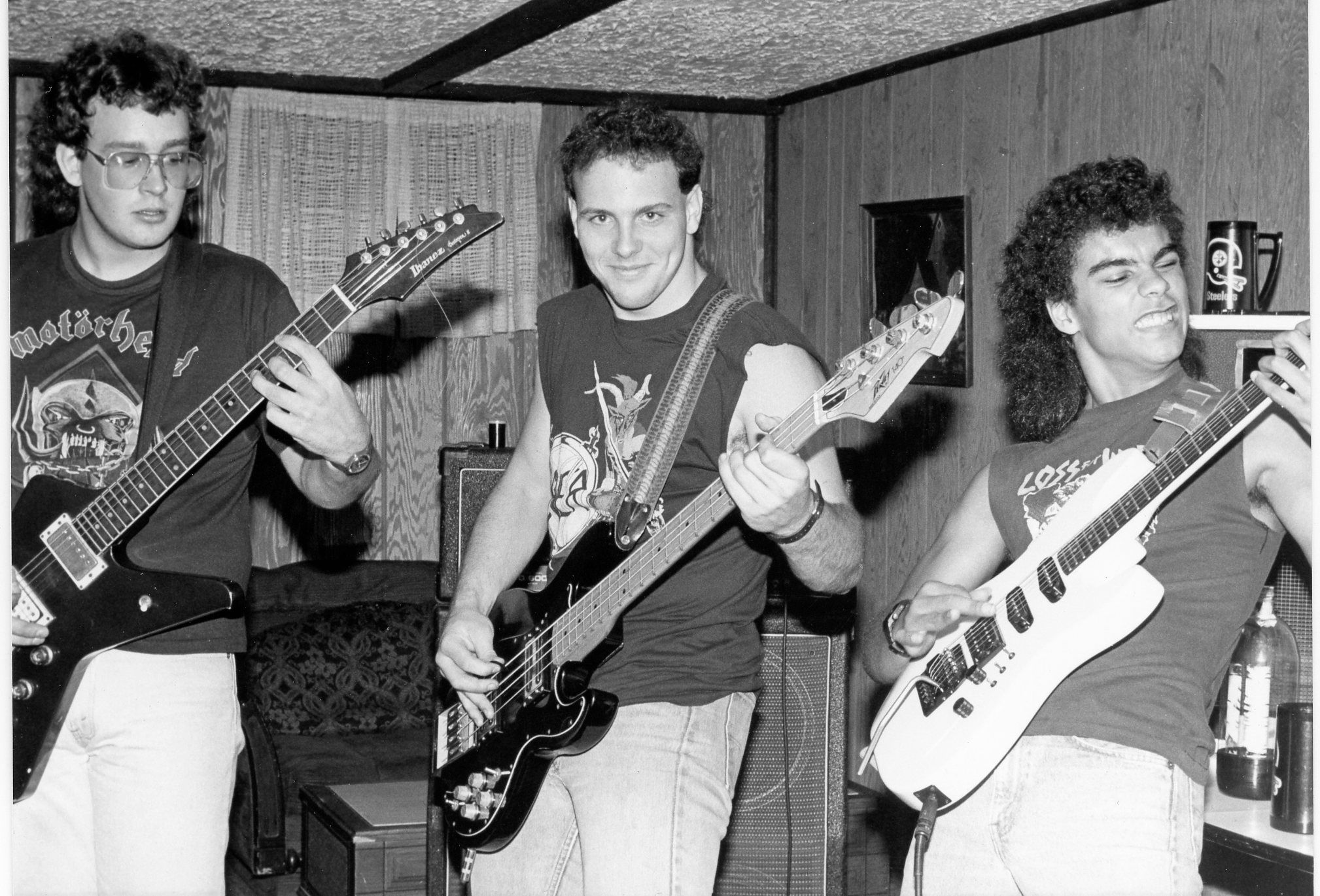 Now that Brian Stanwyck had officially filled the bass vacancy, we were anxious to show that we could stand on our own without George Grant. For better or for worse, we would be responsible for Necropolis going forward and we were determined to prove ourselves.
I can't over-stress how strong of a songwriter George was/is. He wrote brilliant anthemic songs with memorable riffs and choruses. We all grew up with Kiss, and their music was in our DNA somewhere. But George really knew how to take those high energy sing along's and put them into the thrash metal style. I remember Dan Klasnick, singer and principal songwriter of Doomwatch, remarking to me: "George is a great songwriter, he can write metal songs in major keys - do you have any idea how hard that is?!" I knew what he meant. I played violin and trumpet from the second grade through the eighth grade, and I knew that major keys didn't feature prominently in heavy metal. George was the catalyst for almost all of our songs to that point. I had never attempted to write a song, really. I may have contributed some melodies and lyrics, but actually writing and arranging a song, that was going to be new.
Another new reality for us was that Chris's mom and stepdad were not into the loud jam sessions emanating from their basement.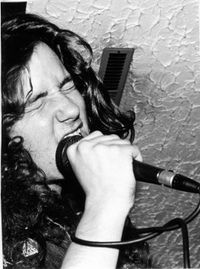 For a while we moved out to Eric's grandparent's house in Murrysville, but that was a little too far for us all to get to regularly. Determined to find a solution, Chris Emerson perused the classified ads and ultimately found some available space at 2020 Smallman Ave. in the Strip District. This was still the days of the Strip being a vibrant wholesale/warehouse district. 
The four-story building housed a few retail shops on the first floor, while the second floor was offices. We rented a room on the third floor, large enough for us to set up all of our equipment on one end, and some couches, a table and chairs at the other. It was like our first apartment, since most of us were all still in high school living with our parents. The whole Strip District was quiet by 7 PM, so it was an ideal environment for us to get to work writing new material. 
(Shape Of Rage in our Strip District rehearsal room below)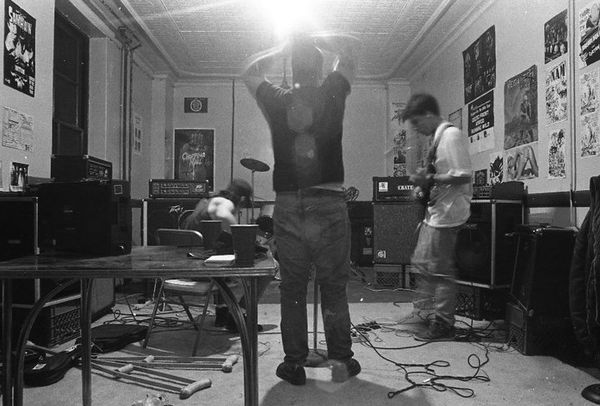 Now, Jon Dawson had been building his song writing skills for a few years at that point. He had a great ear for melody and was a strong player, confidently pushing himself as a writer and musician. Both he and Chris Emerson were enrolled at the Pittsburgh Creative and Performing Arts High School, so they were getting regular doses of music theory and composition as part of the curriculum.
As it turned out, Eric Reese was also full of riffs and ideas, as was the new bassist, Brian Stanwyck. Chris Emerson wrote fantastic drum parts and was a strong arranger. We all had something to contribute to the songwriting process going forward and we were excited about it.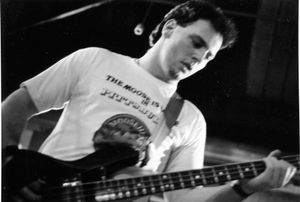 Something I should mention is the timing of this transformation of the band. The Summer of 1987 was proving to be the apex of the thrash metal movement. The definitive records were released a year before: Slayer's "Reign in Blood", Metallica's "Master of Puppets", Megadeth's "Peace Sells", etc. The excitement of thrash metal was at its peak, but it would only be a few months before most of the top bands would follow in the AC/DC mould of making essentially the same record over and over. Or worse, turn towards more commercially viable material, softening the ferocity of their compositions in hopes of broadening their appeal.
What was once an open landscape full of different ideas and approaches was quickly becoming a cookie-cutter-clone-war, with groups basically aping the top bands in the genre, following their songwriting style, image and approach. Furthermore, thrash metal had invigorated the crossover and hard-core scene, influencing the songwriting style of those bands. The landscape was becoming crowded with similar sounding groups. However there were a few artists, like Voi-Vod, who continued on their own path, becoming more technical and more creative without following the rules, confidently  carving their own original sound. These bands were a huge inspiration to us.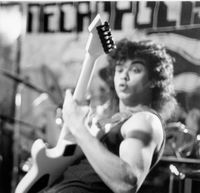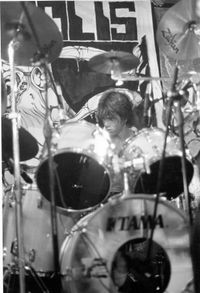 Another other unique thing about the late 80's was that major labels really didn't pay attention to underground music, so almost every facet of the underground was free to experiment and indulge in creative whimsy. It turned out to be a very exciting time in modern music, one that was largely without commercial motivation, while embracing new technology, and it was mostly artist controlled.
Now don't get me wrong, we were definitely a metal band, but we listened to all kinds of music. All five of us were fanatics, and we were having great hangout sessions before and after practice where we were playing our latest discoveries for one another. The creative originality in all of this musical freedom was influencing our own song writing and ingenuity.
So we had five new writers bursting with enthusiasm, collaborating on songwriting in a way none of us had ever done before.
A track like "The Insanity Has Only Begun" really exemplifies our approach at that time. Dawson and Reese were bouncing guitar riffs off of each other and then writing complementary parts and melodies. Stanwyck started in with his own contributions, using his mastery of the bass to write heavy chordal parts underneath, as well as melodic counter-fills and runs. I took a conventional approach, establishing the verse and chorus vocal arrangements. In the middle, Jon, Eric and Brian started adding various instrumental sections, while Chris pulled all of the parts together and made them flow with his creative and precise drumming. In the end, there were six distinct sections in the nearly seven-minute-long song, not exactly commercial material.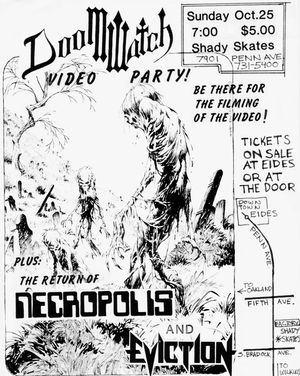 We were writing for ourselves and absolutely loving it.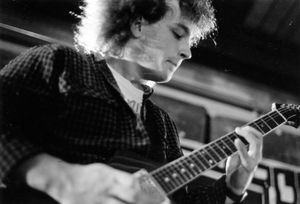 Of course, looking back, it was very self-indulgent, but our writing was a group effort, and we had to indulge each other to pull forth material that challenged us. In the end, it's truly what that era was about: complete creative freedom. There was no interference from anything outside of the five of us. I don't know how well these songs have aged, but I'm proud of them. 1987 was truly one of the most gratifying summers of our young lives.
Now that we had written some new material, we were ready to re-introduce the band, yet again. We booked a show at Shady Skates with Eviction and Doomwatch, two of our favorite local bands. The show would also be a video shoot for Doomwatch who was working with some Filmmakers Institute of Pittsburgh students who wanted to make the video as a class project (for the trivia nerds, the non-live footage from the Doomwatch "Monstrosity" video was shot in our rehearsal space in the Strip District). It was another great gig, with a strong turnout. My parents even made the show.
The five of us had transformed into a new group. We were on our own, like-minded late-teens who were learning on the fly how to stand on our own as a band.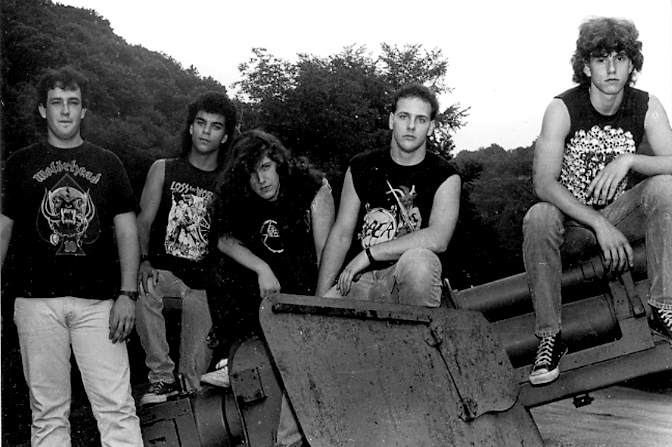 Necropolis was our identity. We were all still kids living at home with our parents, but the band was giving us an independence and a confidence to just believe in ourselves. We did everything together and it was starting to show in our tightness as a unit.
Reborn, we were ready for all the possibilities that the future could hold...
- Spahr Schmitt
Photos: Brian Cummings