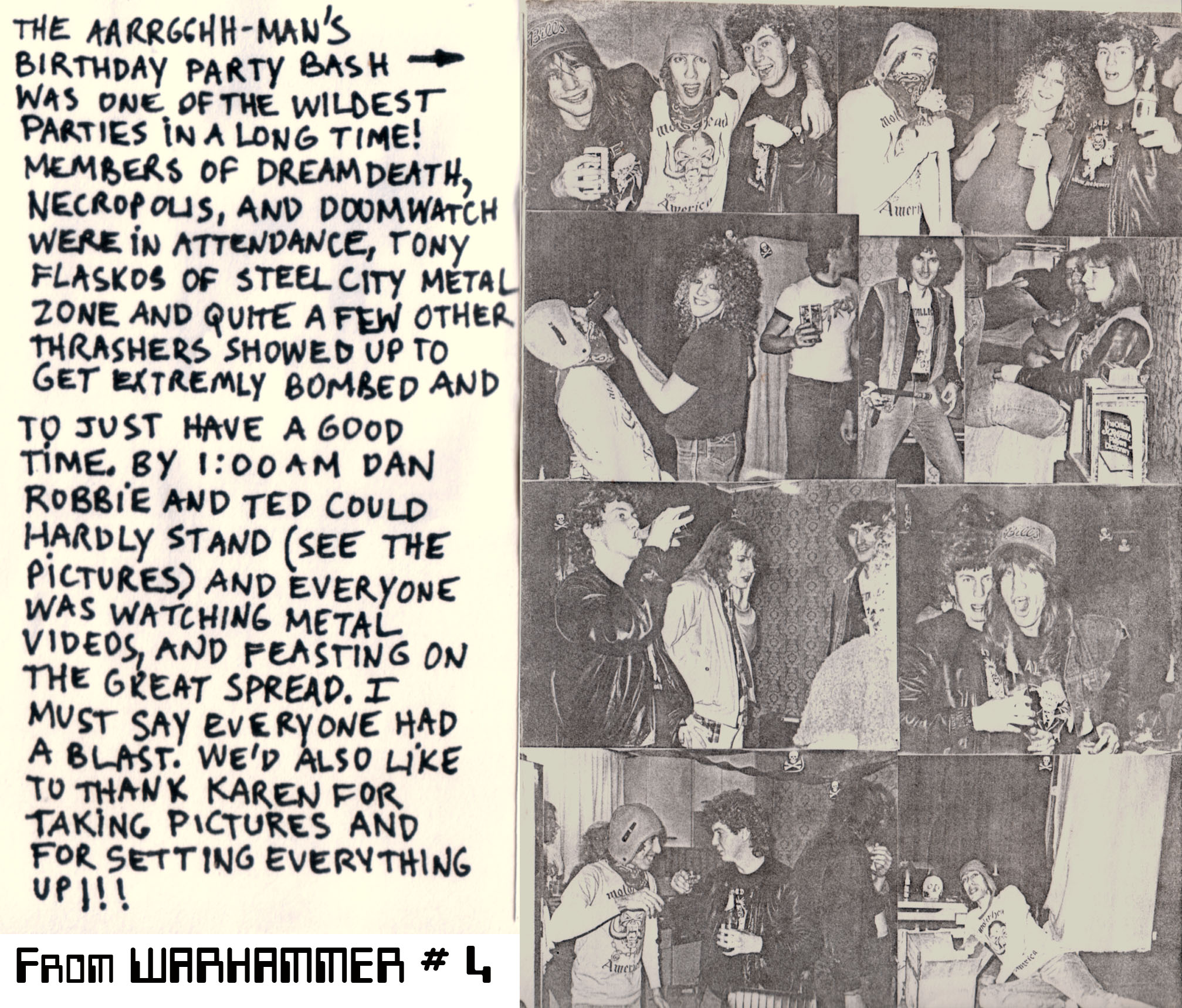 ***IF READING ON A SMARTPHONE USE "LANDSCAPE" FORMAT FOR BEST RESULTS***
The Electric Banana had become the home for punk in Pittsburgh thanks to the hard work of Reid Paley (The Compulsives/The Five), Karl Mullen (The Cuts/Carsickness) and others. Read All About It!
Mike LaVella of Half Life (and Pittsburgh's first hardcore band, Real Enemy) picked up the torch from them. 
We, in turn, took our cues from Mike and Half Life, and what they had done to promote and build the hardcore scene.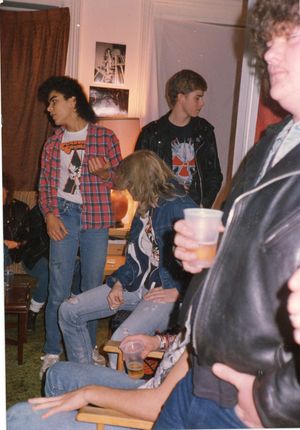 Our first show at the Banana in November of 1985 was attended by a good number of punks, thanks to George's time in Flak and Bbronk's punk lineage, but also by a bunch of metal heads who, like us, were equally excited by the hardcore scene and what it meant to thrash metal.
Todd Porter (who we'd met with Cam) was there. As was another Art Institute headbanger, Ted Williams. We knew Rob Tabachka, Jim Pitulski and Danny "Aarghman" Macosko from the Eides record counter, and they showed up.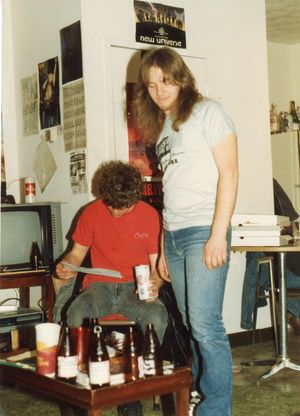 Also in attendance were Daniel Klasnick, Jeff Cherep, Mike Smail, and Brian Goodbread, who were playing together in an early version of Doomwatch. Soon, Goodbread and Smail would join forces with Williams to form Dream Death, while Klasnick and Cherep would recruit Terry Weston on bass and drummer Blair Powell (from the first Half Life lineup). These were the members for the first Banana appearances of Dream Death and Doomwatch in 1986.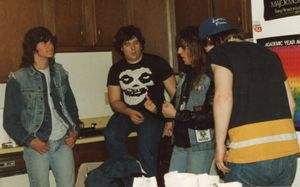 But shortly thereafter Weston would join Dream Death on guitar and be replaced in Doomwatch by Gary Mintz. Even with all these defections, we were still on the same team, supporting each other and national acts, in an attempt to build a local scene.
There were so many area bands we got to know and play shows with, like Half Life, Iron Cross/Holocross. Disturbance, Circus of Death,  Castle Blood, The Deformed, Battered Citizens, Direct Action, Hand of Doom, Bird of Prey, Necracedia, P.T.D. and many others.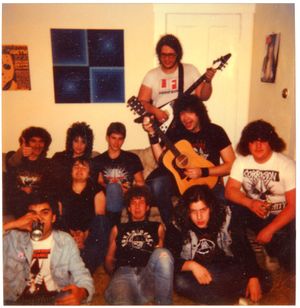 As our scene grew, we got to hang out with other people who wanted to make music, like Greg "Devilman" Biehl and Don "of the dead" Crotsley who were scheming up Nunslaughter, as well as Sharon Bascovsky and Terri Heggen who would eventually form Derketa.
We met some of the biggest supporters of our scene like Richard "Stump" Stempkoski, Carolyn Farhy, Jerry Fleig, Jamie Penisi, just to name a few.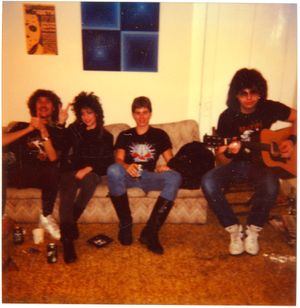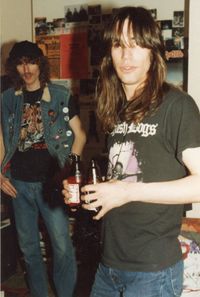 Ted Williams had an apartment on Lockhart Street on the north side of town. Eventually, Todd Porter started to crash there, too.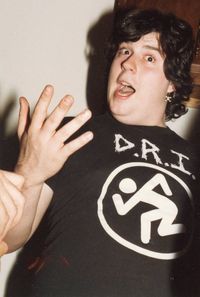 We spent a lot of time hanging out in that tiny little  place - for parties and after shows, or just showing up on a Friday or Saturday night to see what was going on.
We were just broke-ass teenagers with less than $10 between us. But Ted, Todd and Robbie were always there for us, turning our few dollars and change into a party!
And there were other get-togethers. Blowouts at band houses or practice spaces. Art Institute student shindigs.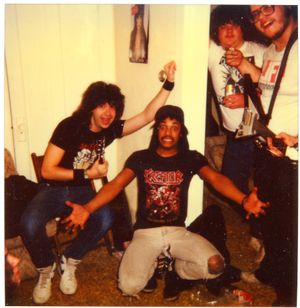 And lots of house parties. Lissa Brennan was a generous host, welcoming us into just about every place she called home.
The entire underground scene was practically family.
We weren't just friends at the gigs, we were living this lifestyle together.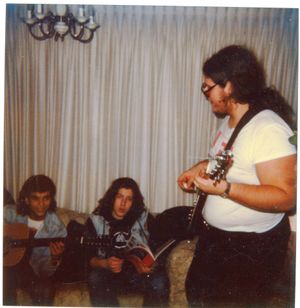 Ted Williams, Dan Klasnick, Blair Powell and Danny Aarghman started to contribute to  Warhammer magazine, while Tabachka and the rest of the Eides crew would sell it to the Iron City Bangers.
There were a few shared interests among this tight-knit gang, but the main thing we had in common was "the scene."
There was no Internet. The local media didn't give a shit about what we were doing. The only way to grow our support network was to find interested people and recruit them.
Somehow we did find other members of our "lost tribe", and the scene grew.
One of the things I look back on so fondly was the selfless support that our Pittsburgh thrashers gave to each other. We really didn't have disputes or in-fighting. Metalheads, Punks, and for a while, even Skins, got along without drama. It was more than shared interests,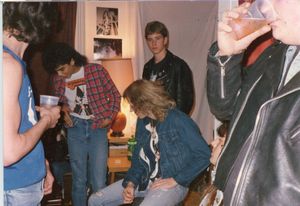 somehow we knew we were all family. And we kept our local scene first in our hearts. Pittsburgh over all.
National bands took note. International fanzines called our scene "The next  Bay area" because of the originality and diversity of the music. That 1986 to 1989 era was very special. But it was brief. We were all young and our lives were changing quickly, it was over before we knew it and another generation was picking up the torch as ours was burning out.
For the most part, we've remained friends throughout the years. And we've kept that "Steel City Pride" above all, supporting each other and our town.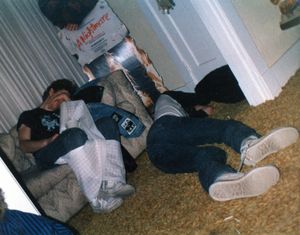 We've endured the highs and lows together. We've welcomed newcomers and the next generations into the fold. We hold the departed close to our hearts.
It's the Pittsburgh way, and for better or worse, it's who we are...
- Spahr Schmitt
Special thanks to Mike Smail and Sharon Otway for photos