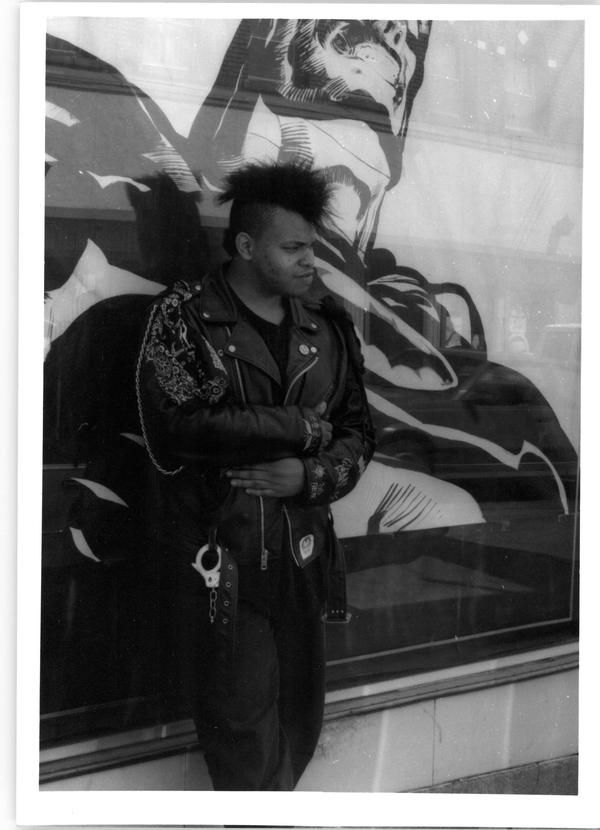 Graphic artist Thomas Reynolds' work may not be evident when you listen to Necropolis, but his drawings are a critical element in our band's DNA.
Like most groups, we had a circle of friends who were devoted supporters of the group. Thomas not only supported the band's evolution from the earliest days, but his artistic contributions cannot be overstated.
Necropolis built its reputation on the songs and live performance, while Reynolds' spectacular artwork helped promote and legitimize the band from the beginning.
Although the Necro-soldier was conceptually defined by the lyrics to the theme song "Necropolis", and the evolution of the character continued through lyrics to other songs like "Biomechanix", the visual representation was born out of Thomas' fertile imagination. His seemingly endless creativity and raw artistic gifts were with him from the earliest days.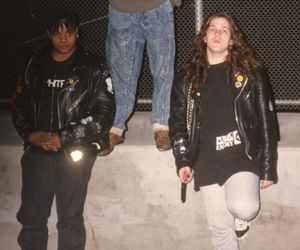 I first met Thom in the sixth grade, where we bonded over our drawings inspired by the recently released Star Wars sequel, the Empire Strikes Back. We were very good friends from that point on, sharing an interest in comic books, film, and of course, music.
Thom was always pushing me out of my comfort zones.
When we met, I didn't read superhero comics, I'd given them up. But Thom got me to read the X-Men. And I loved it.
Being a devoted Marvel-Zombie, I dismissed DC comics. Thom had me read The New Teen Titans. And I loved it.
He also taught me to pay attention to the names in the credits. I noticed that I liked some artists work more than others, but I never bothered to pay attention to who was responsible for the stories and artwork that I favored.
Thom was always open to new styles and approaches. Many times he would drag me "screaming and kicking" into giving a comic a try that I had dismissed outright for its unconventional appearance. And nearly every time, I would discover a new favorite.
And I had my growing library of music to share with him. We were exploring Heavy Metal, Punk and Hip Hop circa 1981-83.
Such a bad influence on each other were we, that three years into our friendship, we had to repeat eighth grade for skipping too much school. That year of "independent study" pretty much determined the trajectory of our adult lives, as both of us eschewed a conventional path to the professional world, instead devoting ourselves to a lifelong dalliance with underground culture and art.
In 1984 when it was time to go on to high school, the "powers that be" made sure we didn't end up at the same place. So, Thomas was admitted to the Creative and Performing Arts High School and I went to Taylor Allderdice, where all of my siblings had gone. Although we no longer hung out at school, we had almost daily phone conversations, and we continued to get together to pursue our mutual interests whenever we could.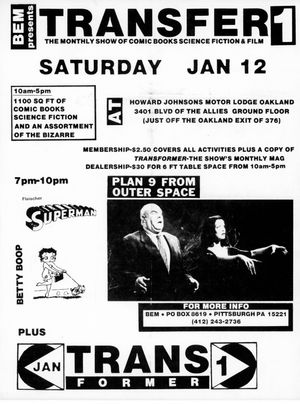 Starting in January 1985, one of the things we would do  was to go to these monthly comic book and movie conventions called Transfer, run by Bill Boichel. Bill had been involved with comic book fandom since the 1970's. He had come to Pittsburgh for college, and started working with Pittsburgh Filmmakers, an organization that promoted and educated people in photography and filmmaking. Bill started his Transfer events as a way to merge his passions, and they were our passions, too. So going to those monthly conventions, and staying for the movies afterwords, was a must for us.
Cable was relatively new, and none of us could afford a VCR. Getting to see flicks like THX-1138, Alphaville, Dementia 13 and Plan 9 From Outer-Space (among others) on a "big screen" was life changing. We got to know Bill through these events, and he would let us help break down the tables that collectable dealers would sell their comics from to set up chairs for the movie screenings. It was work we did happily, but labor that also included the perk of pizza, an extra incentive we couldn't ignore, as we we would generally spend every dime we had on comics earlier in the day. The counter-cultural touchstones that we were introduced to thanks to these Transfer conventions were without a doubt "transformative."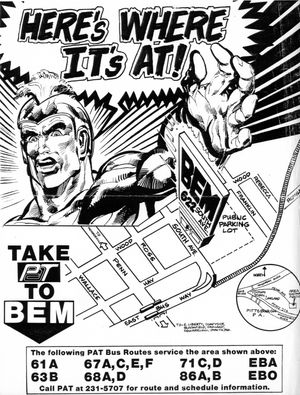 Bill would go on to play an even bigger role in our lives starting in 1986 when he opened his store, BEM, on South avenue in Wilkinsburg. He took us in and gave us jobs sorting and stocking comics after store hours. There was more pizza, and Bill spun records while we worked.
It's hard to explain to kids now, who have every single recorded note ever available via a simple Google search, how important it was to know someone who actually had a library of records like Bill's.
You couldn't just walk into a record store and say, "Good Sir, I'd like a copy of MC5's Kick Out the Jams, please" as that record was LONG out of print, along with hundreds of other classics that were under-pressed, poorly distributed and forgotten. But Bill had an amazing collection, and schooled us constantly.
Thom and I would spend as much time as we could there under Bill's expert tutelage, learning about comics, music, film and more. Bill is still at the forefront of the comic book world, you can see what he's up to at his store  The Copacetic Comics Company, in fact, there's a section on his site devoted to BEM (It's under the Copacetic Universe sub-heading, look for BEM at the bottom of the page).
Through all of this "education", George Grant was like our big brother. The three of us went shopping for comics and records, played video games, watched that newfangled cable TV, and went to the latest movies together.
Many of the "Pop-Culture" benchmarks of that era had an influence on our creative endeavors. We discussed and debated the merits of it all, which led to us creating our own universe of characters and concepts.
So when the idea of Warhammer came up, Thom was there and ready to collaborate.
His artwork is, of course, on the cover in the form of the Warhammer mascot.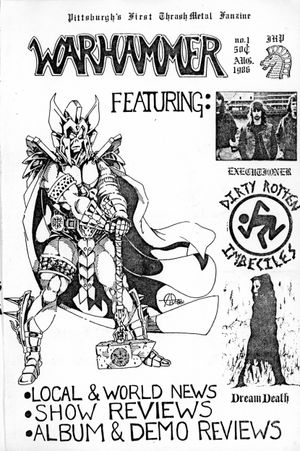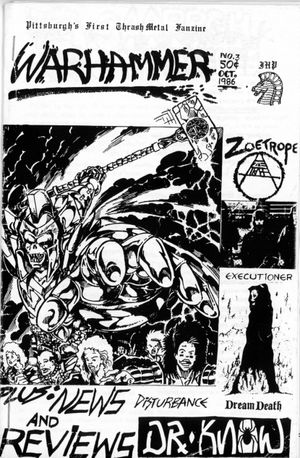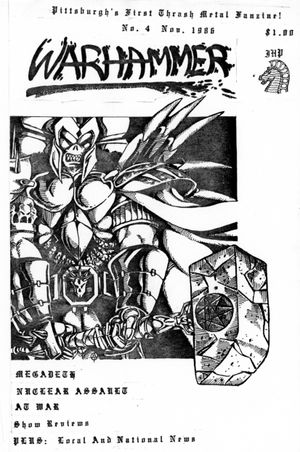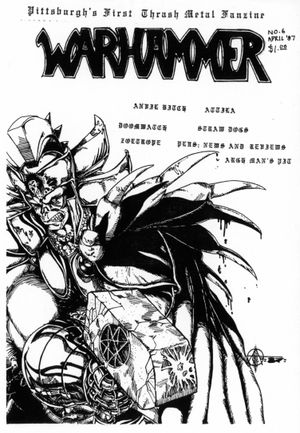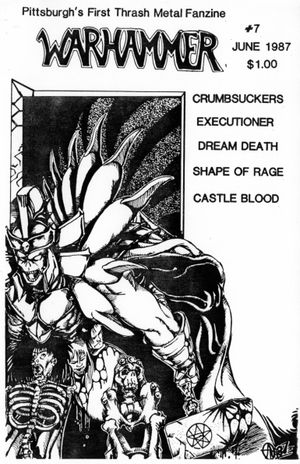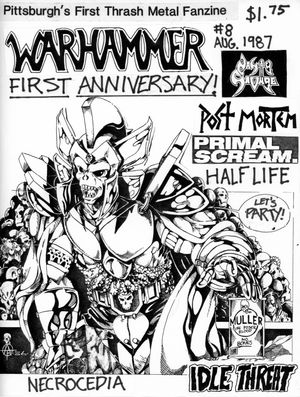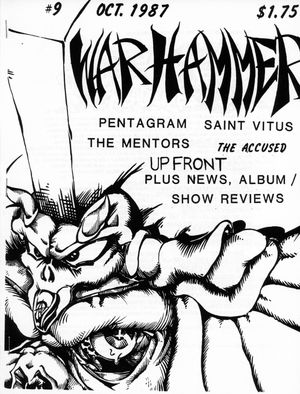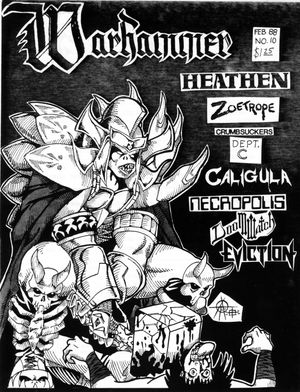 It's also on the titles for each section of the magazine...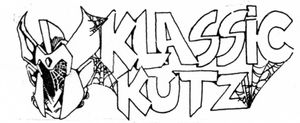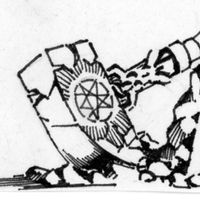 He created the look of the warhammer-weilding warrior,
whose "poser-crushing" hammer was emblazoned with our metal-punk-unity symbol.
This same character would end up on the flyer for the 1986 comeback show and the subsequent Warhammer benefit gigs.
Thom was always full of ideas and energy, as were George and I.
We just wrote and drew and argued.
But we actually managed to see the process through.
Warhammer was poorly written, full of typos and cheaply reproduced, but we got it out there.
And Thom's artwork was so "professional" it helped people take Warhammer seriously.
It was the same when Necropolis got rolling.
A drawing of Thom's would be on the cover of the first Necropolis demo, and then the rest of our demos.
He wasn't writing the music or performing with us at the shows, but he was there at practice and at the gigs.
He was part of what we did as a group, and it was never questioned that he was part of what we were doing.
From the beginning of the band to the unreleased "Breaking the Tradition" LP cover. 
On our three t-shirt designs.
Four sticker designs.
Our live backdrop.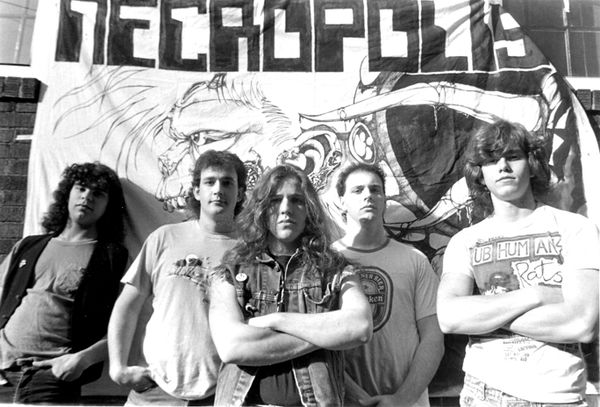 He would be with us at practice, drawing away.
He was included in the photo shoot for our album, Breaking the Tradition, as well as drawing the album cover.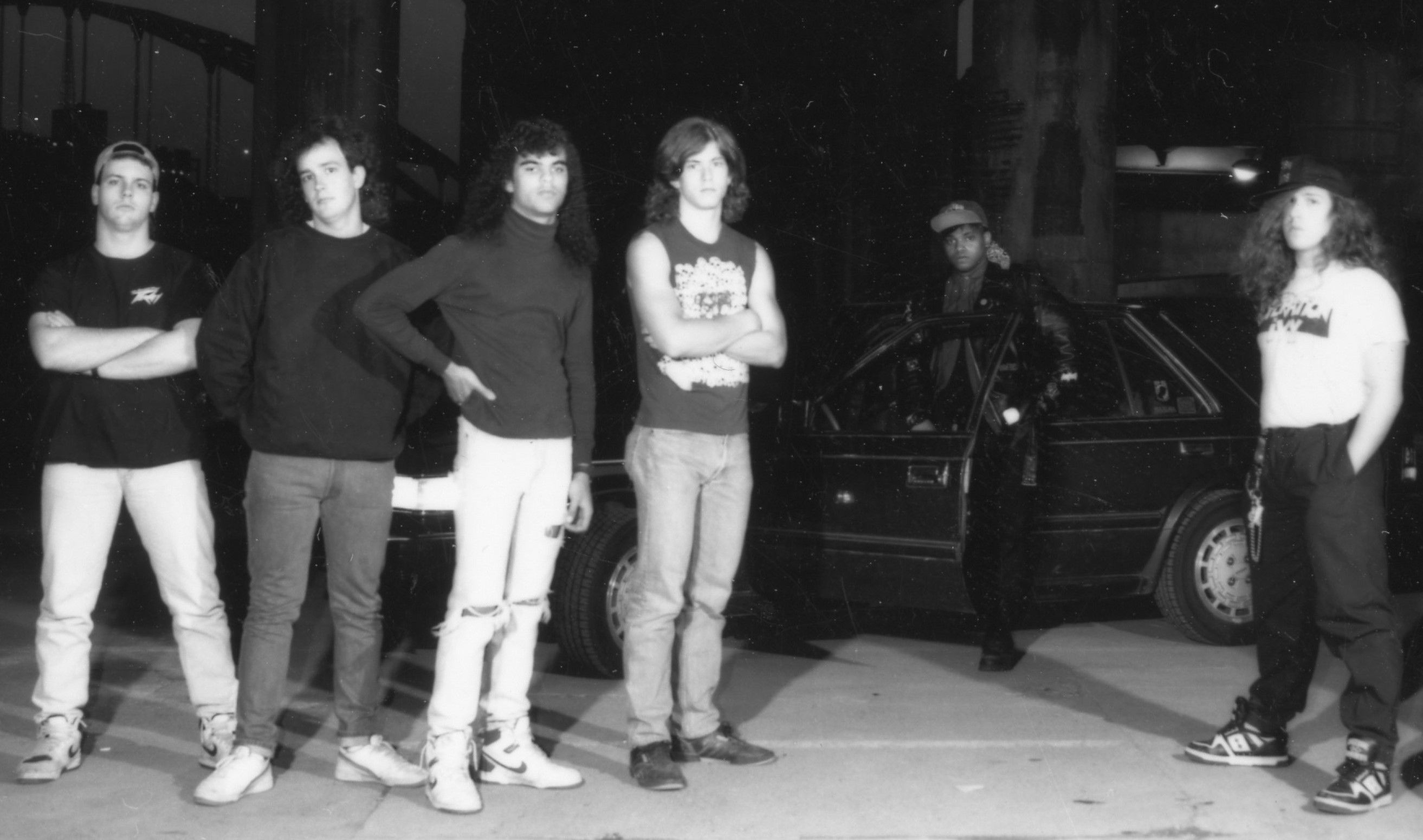 He was part of the brotherhood and one of the few people along for the whole journey.
In fact, he introduced the band for our last show.
Simply stated, we were a family and Thomas was our brother.
We all contributed to Necropolis freely and passionately.
Thom's art is part of the Pittsburgh underground music scene to this day.
The bands he's worked with are a veritable "Who's Who" of steel town punk and metal: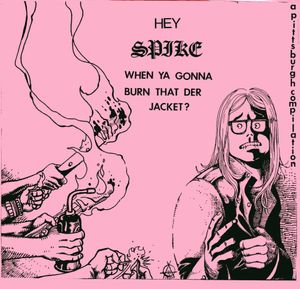 Shape of Rage,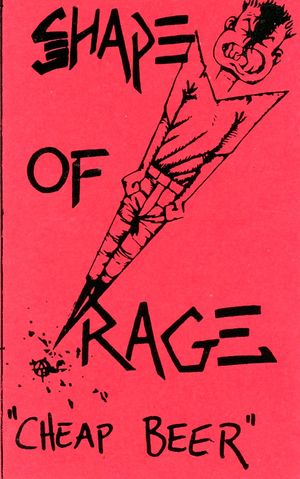 Eviction,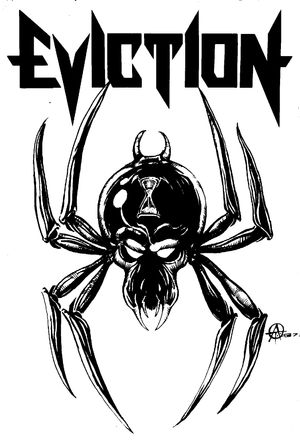 Doomwatch,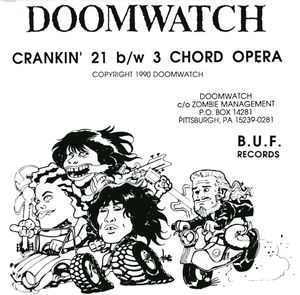 Submachine,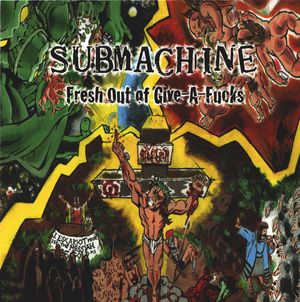 Battered Citizens,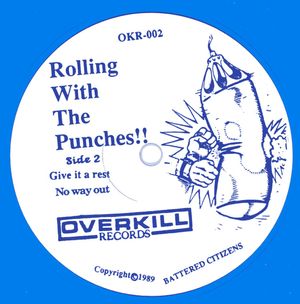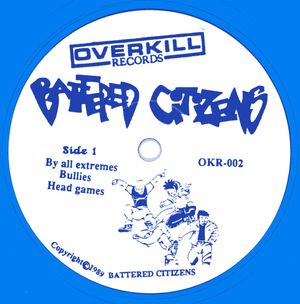 Wormhole,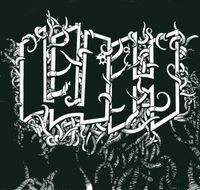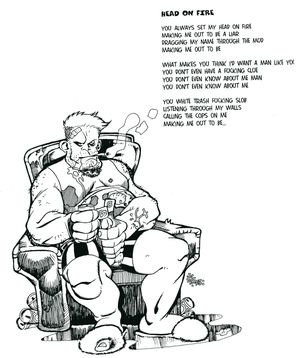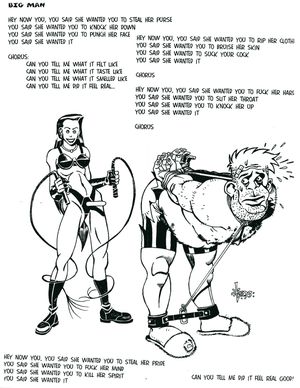 Caustic Christ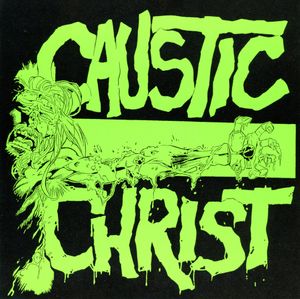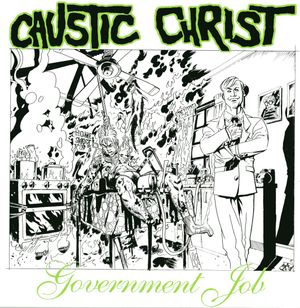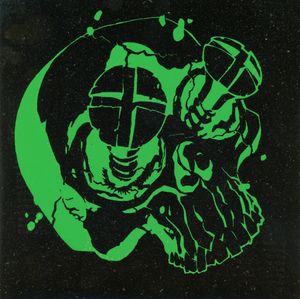 ...and many others.
Thom's artwork is still as vibrant and imaginative as it was when we first met back in the sixth grade,
and so many of Pittsburgh's underground  bands have had the thrill of seeing his creations associated with their work.
But it all started here, in the City of the Dead...
- Spahr Schmitt