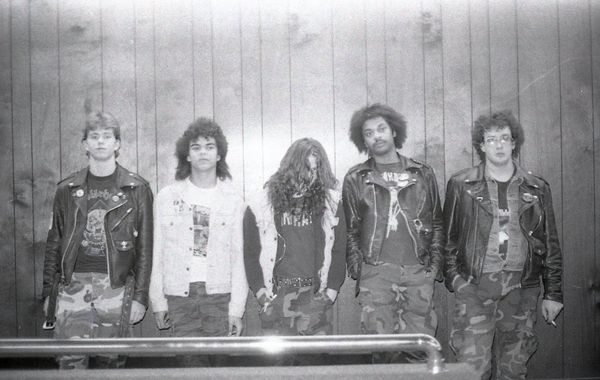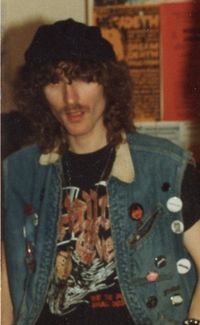 So the decision to become a five piece had been made, and it was a relatively easy secret to keep. It had only been made a week before our big show on Valentine's Day 1987, the second benefit for our fanzine, Warhammer.
When Saturday arrived and we were loading our gear on stage, legendary Pittsburgh metal-head Richard "Stump" Stempkoski saw Jon and Eric hoisting amps on stage and asked, "Jon! What are you doing here?" Jon looked at Eric, then looked back at Stump and deadpanned: "I'm his guitar roadie." To which Stump replied, "Oh, wow! It takes a big man to be his replacement's guitar roadie!"
It was a great improv from Dawson, but that gag was revealed as the charade it was just moments later when both Jon Dawson and Eric Reese plugged in and played for the first time together on stage. The show was a landmark for us, with the two guitar sound really boosting the energy of the set.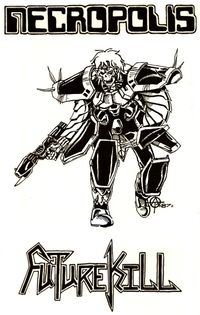 Now that the "secret" was out, we were ready to start working on a demo to really spread the word on the newly expanded lineup. Joe Rembisz, a regular fixture on the scene who had some schooling in the recording arts, brought his four track to Eric's grandparent's basement where we began to track recordings for the "Futurekill" demo.
With five songs in total, it represented the breadth of our repertoire. There were a few older tunes, most notably our theme song, "Necropolis". At last, we had a good representation of that formative track. Also, we recorded another song we had been playing for over a year, "Carnage", along with "Annhilus" now getting the five-piece treatment.
The keystone of the demo was the newest song and title track, "Futurekill". A dynamic speed-centric song that exemplified everything we were doing at that time: an ominous intro giving way into a ferocious thrash metal explosion with a raw "punky" edge providing a tumultuous backdrop for an apocalyptic lyrical theme. Multi-layered and more complicated, it was a real growth from our earlier efforts.
Finally, there was "The Seventh Seal", a song that has taken on a life of its own, and deservedly so. But it's genesis is a trivial obscurity.
When we had rented the four track in an attempt to record the "F.I.S.T." demo a year earlier, after Jon Dawson and I had left his house late that Saturday night, George somehow had the energy to keep working. During the wee hours of that Sunday morning, he managed to write, program the drums for (on a machine he had almost zero experience with), play bass, play guitar and sing on a recording that he dubbed: "Black Dream - Now Is Apokolips".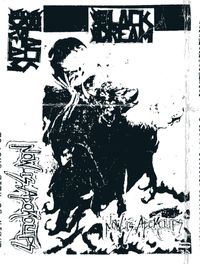 It wasn't a polished affair, but few of the four track recordings of that era were. The song  writing wasn't in the same vein as the Necropolis material, and George sang in a falsetto at times, a very different vocal approach than what I could do. So it wouldn't be confused with Necropolis. But despite the differences, George's greatest strength was still in the tunes.
"Now Is Apokolips" opened with a fast number, "Psychopath", that had a driving drumbeat and a wonderful shrieking vocal that hung on a high note at the end of the chorus before dropping to a guttural growl. It was a memorable hook, although the song was a bit  formulaic over-all. But then there was "The Seventh Seal".
Lyrically it was an epic fantasy story, similar in style to "Frost Eternal", telling a tale of heroic struggle against supernatural forces. In this case, it was chronicling the desperate attempt to fend off the end of days as predicted in the Book of Revelations...
"Ride on steeds of steel, break the Seventh Seal, Plague released on Man, Judgement is at hand".
The musical arrangement had a tense structure that built to a climax, echoing the carnage of the battlefield.
George had an initial pride about the recording.
He promoted Black Dream as an actual band in the pages of Warhammer, creating fake names for the members and penning an "interview" with the "band".
But after a short time, he kind of "dismissed" the demo, possibly uncomfortable with the stylistic variations he'd channeled. He moved on to the next endeavor, as many creative people do when they're too close to something to truly appreciate it.
He needed some time and perspective to processes this work.
Not me.
I jealously played "The Seventh Seal" over and over.
Eventually, I convinced him to let Necropolis have a shot at it, and the recording of the "Futurekill" demo was the opportunity.
I remember working on the vocals in Eric's grandparents basement. A visiting Mike Smail (Dream Death) gave my performance the "thumbs up", which really meant at lot to me at that time, especially because there was no chance of me replicating what George had done on the original. The Necropolis version added a second guitar as well as live drums, and Jon Dawson contributed some musical elements and dramatic elaborations over the original, most notably his epic solo-break.
The full band track coupled with my rougher vocals made it  quite a bit heavier than George's solo demo.
It's worth noting that the style of music that we played, and the type of sound we wanted to achieve on a recording, was not the kind of thing that most Pittsburgh recording studios understood. Having Joe there to help us was invaluable. The work went quickly, and the second release from Necropolis was done in just a few weeks.
Another point worth mentioning is that George was working at Eide's by this time, one of the biggest genre music retailers in Allegheny county, giving him a pulpit to exhort the virtues of the band to Pittsburgh's metal faithful.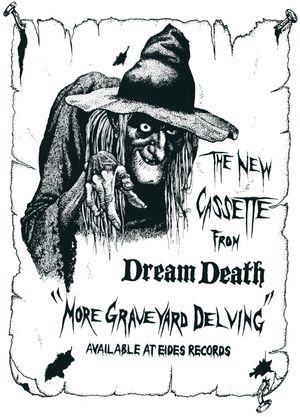 Our contemporaries Dream Death released a second demo and Doomwatch had the "Final Hour" 7" out - and the response to both was strong.
Pittsburgh thrashers were buying up local releases in large numbers.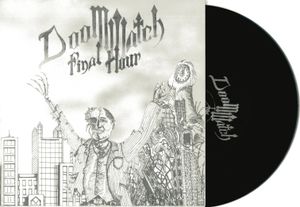 George wasn't the only one promoting our Pittsburgh scene at the Eide's record counter, though. Rob Tabachka, Todd Porter, Jim Pitulski, Danny "Arghman" Macosko, Jeff Lamm and others were building support via direct interaction with the shoppers at Eide's. The underground music scene as a whole, along with  Warhammer and Necropolis, were the beneficiaries.
We were playing out every few weeks and pushing ahead with new material in regular practices at Chris Emerson's house. George was determined to drive the group into a professional discipline, ready to take the next step.
He was booking the band great gigs with national acts like the Straw Dogs and Hallow's Eve.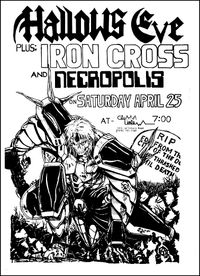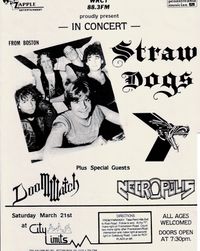 His experience had him focused on the next step, but the rest of us teenagers were chafing at the lead. George was older and wiser, but we weren't interested in any authority figure telling us what to do. Although we were still writing and developing new songs, there were now debates and frustrations boiling up at practice.
Before long, George had heard enough of the immature lack of "professionalism" from the rest of us.
He informed us that he would honor the band's immediate commitments, but afterwards we were on our own.
Our April 25th gig opening for Metal Blade recording artists, Hallow's Eve, would be George's last with Necropolis.
It was a great show with Iron Cross (later Holocross), fueled by a strong turnout and an enthusiastic response to our set. George handled it professionally and without malice or contempt.
Afterwords, he moved on, but hardly stayed idle.
He joined a new band called Eviction and performed at their City Limits debut just a few weeks later on May 9th with Half Life and Nuclear Assault. He also wrote the Eviction song "Diabolic Force," which was recorded on their first demo, "Struggle With Society". Although his time in Eviction was to be brief.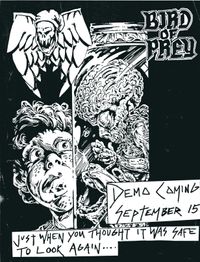 After a few months George moved on and started yet another great Pittsburgh thrash band, Bird of Prey, which he fronted, playing bass and singing. They made a good bit of noise for a few months playing some fantastic shows. After releasing a strong demo tape, "Tales From The Crypt", the band band came to an abrupt halt when, in early 1988, George left Pittsburgh for New York City.
In the days after George's departure from Necropolis, the lack of a bass player may have been the most obvious absence, but his role was far more than just half of a rhythm section. The rest of the guys were happy to be free of his disciplinary tactics, but they were also looking to me for direction.
It was a period of transition that forced us all to sharpen our focus. Jon and Eric were bringing new musical contributions daily. Chris Emerson was working diligently on his craft and it was showing. We were able to play a couple of gigs with the help of the talented Jeff Cherep of Doomwatch on bass (once again coming to our rescue), but a permanent bass player for Necropolis was proving to be elusive.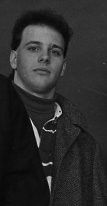 We auditioned and interviewed several hopefuls but no one fit the bill.
Dan Flaherty (of Hand of Doom) had suggested some "Geddy Lee dude" that he went to high school with. His name was Brian Stanwyck and he did in fact sing, play bass and keyboards for a trio called X-cape.
We went to see them play at a log cabin in the North Hills area of Pittsburgh. They put on a set of mostly covers, but Brian was a talented musician as well as a confident front-man and an accomplished performer.
He was no "hesher" though. He had short hair and seemed "clean cut" but knew what kind of a band we were.
We asked him if he was interested in playing with us, and he insisted he was, so an audition was arranged.
He showed up in a Slayer shirt and assured us he was a full-blown headbanger. When we started working on the tunes he was not only prepared, but improvising runs and fills while strengthening the existing bass parts. He was a fantastic player, and really understood what we were trying to accomplish musically.
Brian was definitely our guy.
We spent the summer working on new material and hazing the suburban convert into our city-kid counterculture. He wasn't that dissimilar at heart, but he grew up in a very different world than the rest of us. We just kept pulling him into our orbit.
In the end, he wanted the same thing that we did.
A "five-man-hive-mind" united in one common goal, and that was exactly what we got.
With Brian in the fold, the latest, and final, Necropolis line-up was in place...
- Spahr Schmitt