***IF READING ON A SMARTPHONE USE "LANDSCAPE" FORMAT FOR BEST RESULTS***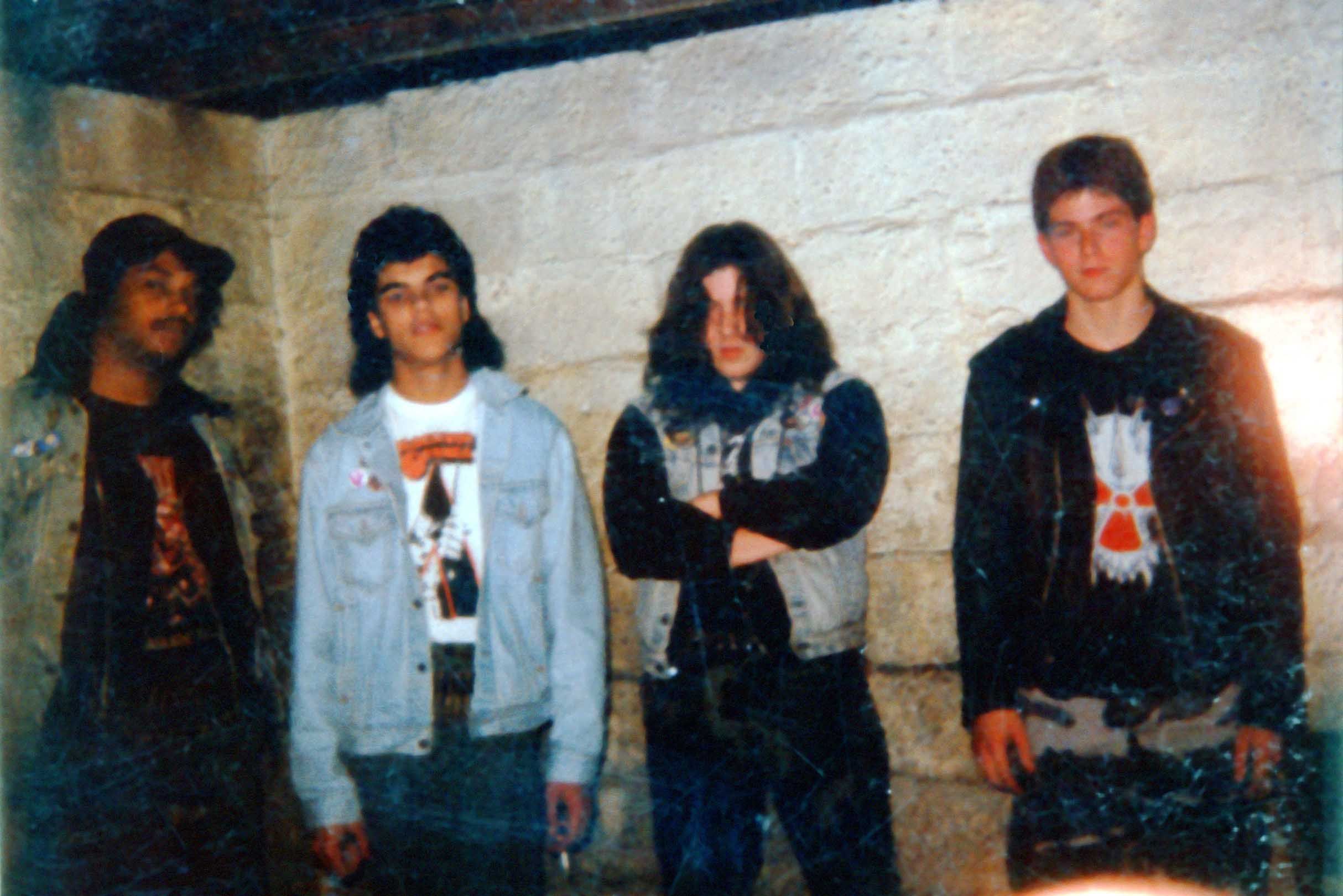 Necropolis was back in the basement, Chris Emerson's basement to be exact. We were trying to revamp the band after our Electric Banana debut the year before. New drummer Emerson and guitarist Jon Dawson were bringing the aptitude and energy that we had be needing to deliver the fast and ferocious thrash metal sound we desired. But suddenly, we weren't alone in Pittsburgh.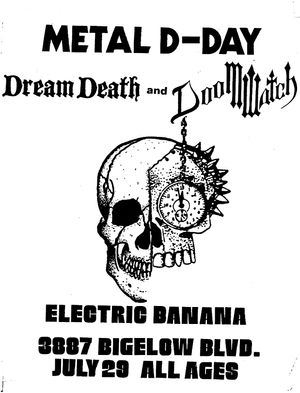 During the summer of 1986, 2 new area bands made their Electric Banana debuts: Doomwatch and Dream Death. The core members of both bands had actually been helping each other find their style and personnel for some time, but in the end they split into their two individual identities. And their arrival was a signal of the coming tide of underground metal in Pittsburgh.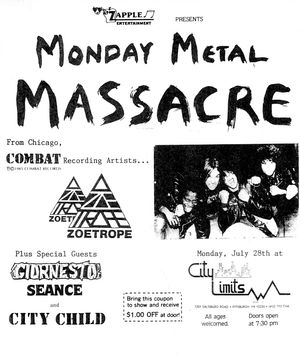 And then in late July, Chicago thrashers Zoetrope had been booked at a new area venue that began to embrace our slowly growing scene.
It was a roller skating rink in the east suburbs called City Limits.
We all knew something exciting was happening in the underground, and Zoetrope was the first group involved to hit the 'Burgh. What a fantastic moment it was. You could feel the energy that the audience was exuding. Their performance was explosive! One of their guitar players, Kenny Black, was throwing his guitar in the air and  spinning his microphone towards the audience, inviting us all to become part of the show. The barriers that I had seen erased at the Electric Banana were also disappearing at this Metal gig in the quiet suburbs. All around me were the members of Dream Death, Doomwatch, Giornesto and others. It was as if Zoetrope were emboldening us to believe in ourselves and what our scene could become. We were the vanguard, and we were willing our own scene into existence.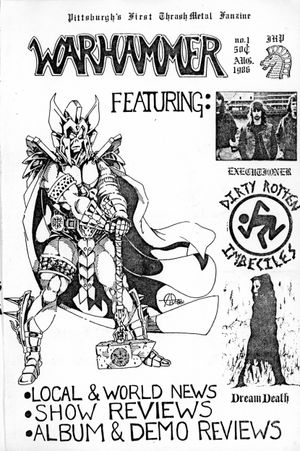 George and I seized the opportunity to publish a small xeroxed fanzine in hopes of uniting the thrashers who were coming together for the first time. We called it "Warhammer - Pittsburgh's First Thrash Metal Fanzine" and we got our debut issue ready for that fateful Zoetrope gig. We had been wanting to get the slowly emerging thrash metal underground out in numbers so we might see some of the exciting new bands make a stop in our home town.
We were certainly naive to how the business worked, but we were genuinely desperate to raise the alarm that a new era of bands were coming. After all, this was 1986 and the increasingly more commercialized, keyboard-laced, power-ballad-centric era of MTV "hair metal" was dominating. 1985 had seen Motley Crue transform from their leather and studs look into the glam rock inspired Theater of Pain image. And the songs softened, too. "Home Sweet Home" had been in hourly rotation on MTV and opened the door for Bon Jovi, Cinderella and Poison who were also taking over MTV and the radio airwaves during the summer of '86. Ozzy followed the trend with The Ultimate Sin, but his opening band on the tour was Metallica promoting their first new record for major label Elektra. In just a few months, Slayer and Megadeth would release their major label debuts. We didn't know that these bands, along with Anthrax, would become the "Titans" of the genre, we just wanted to see them come to Pittsburgh.
Now that Necropolis had a core of four members, we we're gearing up our set for a return to the stage. Also, that summer I had gotten a job as a dishwasher at a bar called the Squirrel Hill Cafe where George was a short order cook. We worked nights from 6 pm to midnight. One day George came in to work talking about an American Legion hall just up Forbes avenue from the Cage (the Cafe's nickname). He had just stopped in there and had asked about putting a show on in their venue.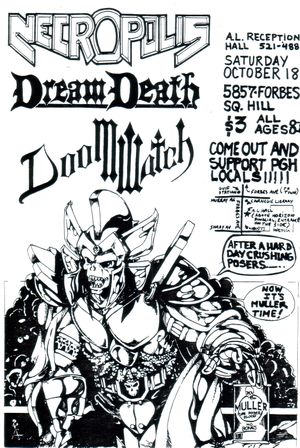 Arrangements were made and we had a "second coming" gig booked for Saturday October 18th. Having gotten to know the guys in Dream Death and Doomwatch, we asked them to play the show, too. The new Pittsburgh underground metal brotherhood.
We were practicing regularly and the songs were coming together quickly. There were a few tunes from the band's early days like "War is Pain", "Annihilus" and "Necropolis." George had written a number of new songs in the months since our Banana debut. "Masquerade" had been  recorded at Sound Images earlier in the year. But we were regrouping, and George was always coming up with new ideas. He blew me away with one called "Frost Eternal." It was an epic tune with a killer riff and chorus.
Jon and Chris were working out as we had hoped, and were contributing to the evolution of the material. Jon had a confident playing style and tone, and was incredible at adding melodic hooks. Chris was stylistically versatile and rock solid. His fast "hardcore" drum beat was unstoppable.
George wanted to skip cover tunes this time, and insisted on jettisoning some of the older songs, so he asked Jon if he had anything written. Dawson played us a Screaming Outlash thrasher called "Technology and War". Since Chris and Jon already knew it, incorporating the song was a no-brainer. George learned it and we played it as an instrumental.
The set was becoming second nature. We were ready to play for an audience, but first George thought it was time to rent a four-track recorder and commit the songs to tape.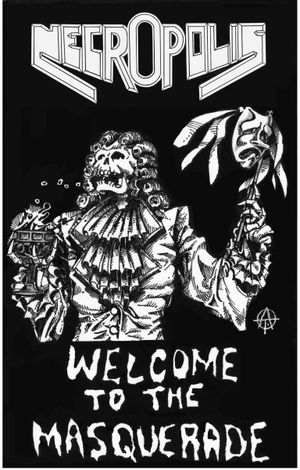 We spent a weekend recording the tracks: "Frost Eternal", "Annihilus", "Technology and War" and "Masquerade". Everything was done in Chris Emerson's basement with rented, begged, borrowed and stolen microphones and equipment. The earlier recording session that Spring had given us some precious experience, so our work was half-decent.
We added "War Is Pain" from the Sound Images session and Jon's "Minuet Of The Red death" from those unreleased F.I.S.T. demo recordings. We called it "Welcome to the Masquerade". Thom drew amazing cover art for it, and we dubbed them up at home on cheap "Rite Aid" brand cassette tapes.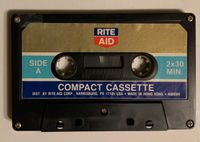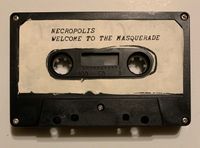 We tore off the "Rite Aid" labels and glued on our hand-cut type-written xeroxes. We were just minimum-wage kids trying to get our music out there. The cassettes were a disaster, though. Just garbage. Live and learn! Anyway, the tapes that didn't break or get eaten by people's players were well received.
The show at the American Legion Hall was PACKED! A band called Disturbance was added at the last minute, it was our buddy Ray Moretti's group, and they kicked off the night with a heavy rendition of the Munsters theme! Dream Death and Doomwatch were killer. Our thrash metal scene was happening.
When we hit the stage we had a blast, in spite of me losing my voice that morning (one of several times I would blow it out overdoing it at practice before a gig). Our set and new songs got a great response and the whole affair went off without a hitch!
ALMOST.
Being an American Legion Hall, there was a banquet room on one side, and a bar for the Legionnaires on the other. We were in heaven being able to get away with $3 admission, and beers were only $.75! The regulars loved us and thought the whole scene was a laugh, but somebody came up lame and bleeding from "the pit" and the Legionnaires had a "liability reality check".
That would be the first and LAST show for us at that venue, but the future was looking bright. We were back playing out, and with a recording in the hands of the scensters, people were starting to get to know the material. Plus, Warhammer was starting to move a couple hundred copies at shows and at Eides, which meant our whole scene was gaining momentum. Dream Death, Doomwatch and a new band called Angus Grimm (with our buddy Jim Pitulski on bass), were playing at the Banana, Mancini's and City Limits, even opening for national acts like Zoetrope, Hallow's Eve, Nuclear Assault and Megadeth! The rising tide of Pittsburgh's thrash metal underground was truly lifting all boats, and our shows were growing in attendance.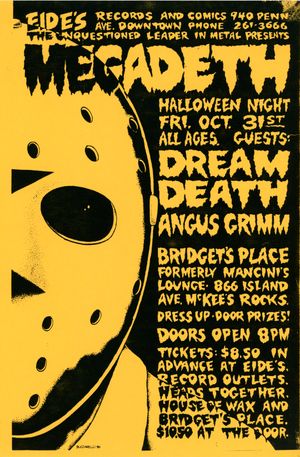 The Megadeth gig on Halloween was a HUGE thing for our scene. Their second record, "Peace Sells, But Who's Buying?", had been released just a few weeks before, and Dream Death and Angus Grimm were opening the show. Unfortunately, George and I both worked evenings, and the owner of the Cage was convinced that Halloween was going to be a big event at the bar, so he wouldn't let us both have the night off. Being the "scrub", I was left to work and had to miss the show. I am still pissed that I missed the gig - largely because they SUCKED so bad when they played at City Limits a few months later (but I got a song out of that, at least)!
It turned out to be DEAD at the Cage that night, I think we had THREE FOOD ORDERS. But the day cook and I spent the evening listening to a hip hop show on the University of Pittsburgh radio station. They were playing track after track from the about-to-be-released (November 15th) new album from the Beastie Boys, "License To Ill". For me, that was just about as exciting as seeing Megadeth. I will mention time and time again how the formerly staunch lines that separated genres of music and their fans were blurred and slowly erased during that time, and experiencing this transformation was INCREDIBLE. After all, it was the will of our subculture that was changing things, and it was starting to show up EVERYWHERE.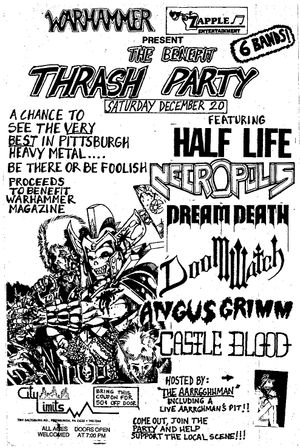 George decided that Warhammer should actually be printed instead of photocopied, so he put together a benefit show for the magazine. It was December 20th, 1986 and the bill was loaded: Half Life, Dream Death, Doomwatch, Angus Grimm and another new band making a debut, Castle Blood, who kicked things off. Charlie, one of their guitar players, had been in the Heretics and knew how to write some raging tunes. The second guitarist was a guy named Eric Reese and he was a good player who stood out during their performance.
It was an amazing night watching our city's varied and talented roster of bands raging, one after the other with the crowd going wild. It had barely been a year since Necropolis played its first show, and now, Pittsburgh thrash metal was undeniable. The show finished with a blistering set from Half Life who were in their "Under The Knife" four-piece thrash period.
The show was a huge success, with a great turnout and a decent amount of money raised. As we soon found out, printing a magazine, even a black and white fanzine, was pretty expensive. Production costs were adding up, so it was going to be a future issue of the mag that got printed (issue five to be specific, but we'd need another benefit gig to have the money for that).
We had played at the Banana earlier in the month with a NYC band called School of Violence. They were cool guys and a great band. Before we knew it, their guitarist Steg offered us a gig at the legendary CBGB's in late January.
We couldn't have been more excited, but we were without a suitable vehicle for the trip. George went to work on it. A girl we had worked with at the Cage had a boyfriend with a van who said he would take us, so we accepted the gig.
But just days before we were set to go, our ride backed out. Furthermore, Jon Dawson's folks were not going to let him go on the trip.
Things looked grim when my dad suddenly agreed to rent a van, but only if he was driving it. He was just going to drop us and kill some time around the city until the show as over.
It was a solution, and we really didn't want to cancel after Steg had stuck his neck out getting us the show. We still needed a guitar player, though. Amazingly, Jeff Cherep, the great lead guitarist of Doomwatch, stepped in to save the day. He would learn our songs in one practice with Dawson and Emerson giving him a crash course (George wasn't there, he had to work). It was hardly an ideal situation, but we couldn't let Steg down and the lure of playing at  the famous punk club was too huge to let go of.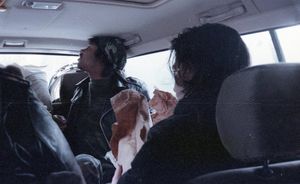 We drove up to Jersey and stayed at George's uncle's house for a couple of hours of precious shut-eye. George and Jeff went over the songs there briefly, but the first time they would actually play together was at soundcheck a few hours later.
It was Superbowl Sunday and the New York Giants were in the big game. After soundcheck, Steg told us we could wander around the city for  a few hours. Once we returned, there was barely anyone there, even though the Boston legends, Jerry's Kids, were headlining the bill.
They held up the start of the "matinee" for about an hour, but we played to less than 50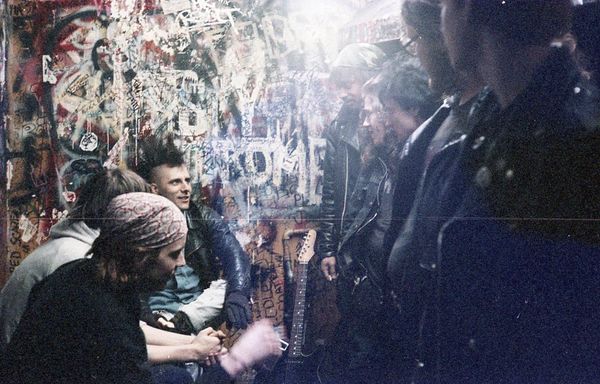 people (other band members included). It was still an amazing experience. The sound man at the venue had a 16-track tape machine that he would record each band with. You could buy the multi-track tape for a couple of hundred dollars. It would be a great start for a quality recording that you could take to a studio and build into something. If you didn't go for that, he would sell you a cassette tape recording of your set for $20, which we gladly bought. It's a pretty great sounding recording, and really amazing to hear Cherep playing our tunes.
Of course by the time Jerry's Kids hit the stage, CB's was PACKED and everyone from the NYC hardcore scene was in the room. It was cool to see that crowd in action, but a bummer that we didn't get to play to them.
Another bummer for me was the fact that George wanted to kick Dawson out of the band for not making the NYC trip. Jon was becoming a good friend, and his guitar playing was getting better every day.
I really didn't want him to go, but George was adamant.
Before I knew it, George had lured Eric Reese out of Castle Blood and into our suddenly-vacant guitar position. It happened overnight, and I wasn't particularly happy about it. Eric was a great guy and a good guitarist, but Jon had really become a strong player and contributor to our sound.
We had booked a second Warhammer Benefit at City Limits on Valentines Day, 1987, and we had School of Violence coming down for it. Our fellow Pittsburgh thrashers Dream Death, Doomwatch and Angus Grimm filled out the bill.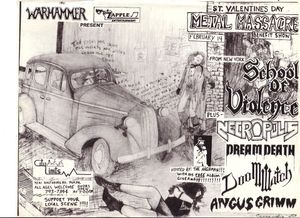 There was another show at City Limits the week before our benefit, Hallow's Eve with Doomwatch and Angus Grimm, and we were going. Dawson called and asked to ride along to the gig. While we were at the show hanging in the booths at the back of the venue, George suddenly thought, why not have two guitar players?
Eric and Jon agreed, but George wanted to keep it a secret until the show the following week.
Word had gotten out about Dawson's replacement, so George wanted to just hit the stage with our new twin-guitar assault without anyone knowing what was coming. We were now a five-piece band, our local scene was becoming a force, it was a very exciting time...
- Spahr Schmitt